We may earn money or products from the companies mentioned in this post.
If your Perfect Prep machine is not working in the summer or displays a warning light it may be due to the hot weather. The water temperature warning light might display in a heatwave, if the water temperature is over 25C.
—
Baby H was grumpy for her milk, I was exhausted from frequent feedings and so it was time for her formula bottle. I dumped a bottle under the Perfect Prep machine and hit the button. Nothing happened. I tried again, and then I noticed a new light. This one: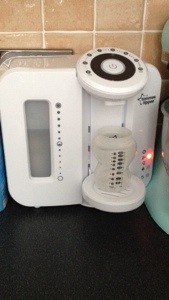 It was at that point I 'learned' that in 32C heat, tap water can warm up quite a lot. When I say learned, I really mean realised in the baby blur world I've been living in, it means realised through exhaustion that if I'm adding ice cubes to drinks, finding water from the tap disgusting and having a fridge full of drinks that taste nicer…. this might affect the Perfect Prep.
According to the Tommee Tippee Perfect Prep instructions, this is really only an issue in 'hotter climates'. The water in the Perfect Prep machine has to be below 25C for it to work, however, ours was well over that. I added 4 ice cubes and they didn't cool it down enough to make poor H a bottle. The only solution I found quickly (was emptying it and adding new 'cold' water and a lot of ice cubes! Other solutions are to only put a little water in at a time, but I'm useless at topping it up, so I'd have to wait on the filtering process while H gets more and more grumpy, or keeping water in a jug in the fridge. I like this option but I need a bigger fridge, mine is crammed full of cold drinks for me! Sorry, I'm not being selfish, but at the time of the light coming on, there wasn't any cold water in the fridge that I could use. Anyway, I just thought this might be useful to others…. as it didn't occur to me until it was too late.
Here is the link to the full excerpt from the Tommee Tippee website – you need to scroll to the bottom FAQ: http://www.tommeetippee.co.uk/support/faqs/perfect-prep-faqs/
Lynne x
PS. We used the Perfect Prep Machine by Tommee Tippee for a bottle of two a day as it was so convenient (check out my review of it here – seriously I rate it as 100% recommended, 10/10 and a "New Mummy Blog Must Buy")….